Ten Tips to Reduce the Stress of Downsizing
Introduction
Moving home can be stressful. There is lots to organise and keep track of, it can be physically demanding and there are often tight deadlines. It can be especially challenging if you are looking to shift from a family home into a smaller home, apartment or village environment.
Below are ten things that the team at DownSize NZ have learnt that can help take the stress out of your next move.
Tip 1. Start decluttering early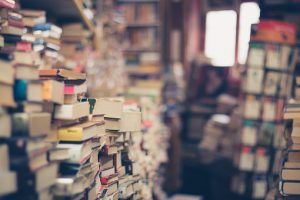 It's never too early to begin the downsizing process. If you think you may be moving within the next twelve months, our first tip is to start getting ready now.
Sorting through possessions, decluttering, disposing of the items you no longer need or have space for in your life, getting your home and garden tidied up and ready for sale – it all takes time – and often a lot more time than you think.
So, give yourself that time. Because ideally, you want to be able to do it at your own pace.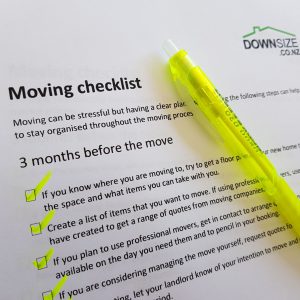 Tip 2. Have a clear plan
Be really clear before you start about what you are aiming to achieve.
Without a plan, getting ready to shift home can look really daunting and the size of the challenge can be overwhelming. Having a plan that breaks the job into tasks that can be tackled one at a time and ticked off is really useful.
The plan can always change, but we find having a plan is a really good place to start.
Tip 3. Only handle something once
When sorting things out, you don't want to be moving clutter from one room to another or sorting the same stuff into different places around your home. The key is to be efficient and make sure you're not double or triple handling things.
We recommend focusing on one space at a time and getting that space totally sorted. Once you decide which space to tackle, sort things straight into where they are finally going – have your boxes and labels ready to go!
Tip 4. Find new homes for the things you treasure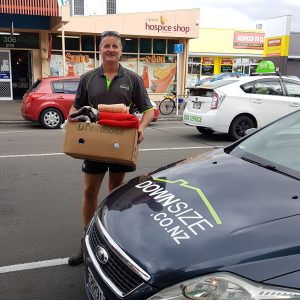 The items you don't have room for in your life need to be disposed of and it is great to find a home for as
many items as you can – we think dumping stuff should be the last option.
Some items can be sold (Trademe, Neighbourly or the local auction house can be useful). For other items, it is good to make arrangements to "gift" them to special people in your life such as family, good friends, neighbours, charities, schools or clubs – people who may have a use for them.
DownSize NZ has a range of contacts across different organisations so can provide advice on who may appreciate specific items. We take no commissions on anything we sell or on any services that we arrange on behalf of our clients.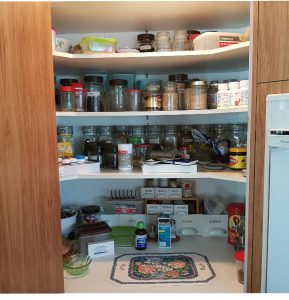 Tip 5. Don't move consumables (consume them!)
Moving companies usually charge by volume so when you're getting close to actually moving, it doesn't make sense to take anything more than you need to.
Food such as canned goods, frozen foods should be used before you shift if possible. The same goes for paper products, garden chemicals and paints – just sort out what you will realistically need in your new home and either use up or dispose of the rest.
Tip 6. Make a contact list to stay in touch
Start early to create a list of people and organisations that you will need to notify of your upcoming change in address. When you start the list you might be surprised how many there are such as:
Services and utilities (e.g. phone, mobile, internet, electricity, natural gas, LPG, Sky, wheelie bin)
Bank, insurance, health insurance, council, library, health services, driver's license
Electoral register
Airpoints, Flybuys or store loyalty programmes, shops you have cards with or get special offers from
Clubs, magazines, newspaper deliveries
Friends, relatives from out of town and other people you may not see often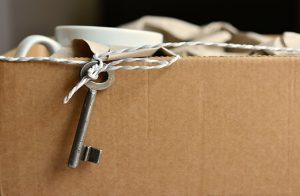 Tip 7. Plan for your new space
To avoid finding on moving day that the furniture and possessions you've kept just don't fit into the new space you have – or they make the space feel small and crowded – do your homework.
Our tip is to either get hold of (or draw) a floor plan of your new residence. This lets you plan and truly visualise where everything will go, which furniture will fit in your new home and the best location for each.
Knowing which pieces will fit will also help you decide what you need and where it goes so on shifting day everything ends up where it should be.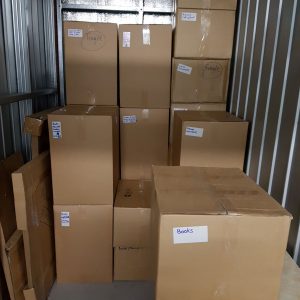 Tip 8. Don't move stuff you don't need
It is tempting to just pack everything up and tell yourself you will sort it out when you get there. But this increases your moving costs and means you end up with a whole lot of clutter at your new home – so you still have a job to do sorting it out and getting rid of it.
Our advice is to sort as much as you possibly can before moving day.
Tip 9. Be realistic about what you can achieve in the time you have
Covered in Tip One, getting decluttered and ready to move takes time – and energy – so you need to be realistic about what can be achieved in the time you have available.
Our advice is to not take on too much at once. Again, if you start early and have developed a clear plan, you can work at your own pace and have everything sorted well before moving day.
Tip 10. Ask for help early!
Moving is not easy and if you need assistance, don't wait until the last minute to find a helping hand. Also make sure you get the right help – someone who can commit the time required, work at your pace and provide the level of support that you need.
Getting the right help at the right time reduces the stress of getting ready to move and can make the move itself much simpler – meaning you can focus on the positive aspects of your transition to a new home or the next stage of your life.
About DownSize NZ and what we do
The team at DownSize NZ is based in Havelock North and we are here to provide an extra set of hands wherever our client's need them.
We typically start with a home visit to understand the challenges our client is facing and where we can best help out. We then work with our client to develop a plan. We are definitely not there to take over – the client is in charge and we are there to support them.
Some of the services provided include: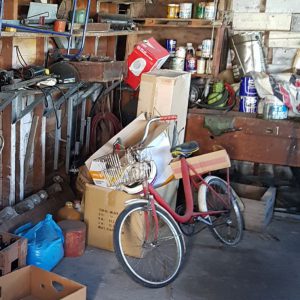 Decluttering
DownSize NZ helps our clients decide which things they take with them and which items they get rid of.
For the things they choose not to keep or don't have room for, the DownSize Team can help decide what they do with them and manage the logistics – packaging and posting, arranging transportation of larger items, having things collected or dropped off as needed.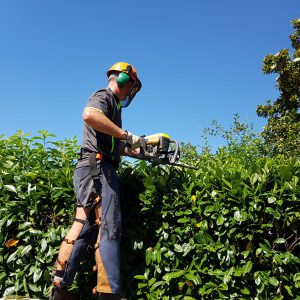 Property preparation
We help our clients to get their home and section ready for sale – sorting out maintenance issues, tidying up the section, arranging contractors (we get some good discounts from local businesses that we pass straight onto our clients). We can also organise professional services for things like a property valuation, arrange real estate agent appointments, get quotes for home staging – whatever our clients need to achieve the best outcome from the sale of their property.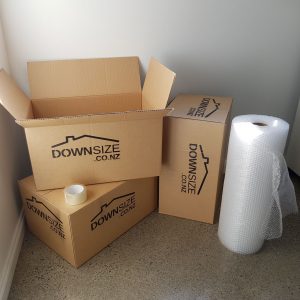 Help with the move
We can assist with organising movers, sourcing boxes, wrapping and packing, supervising the movers on moving day and helping to arrange furniture and belongings in the new property. We can even help with unpacking if needed.
Estate clearance
If an experienced pair of safe hands is required to help with preparing a deceased estate for sale, the DownSize team can provide assistance with arranging for items from a home to be cleared and arrange transport, storage, sale or disposal in line with the instructions of the family or executor of the Will. We can also help get the house ready for sale, arrange an independent valuation, coordinate real estate agents and ensure the grounds are maintained while the property is on the market.
Providing regular reporting to keep the family or Trustee/s updated on the status of the property, DownSize NZ offers a professional, discrete and reliable service through an often-difficult time.
For more information or to arrange a free, no-obligation visit to discuss how the DownSize Team could help you, please call Sue or Ant on 06 601 4266 or email info@downsize.co.nz.
We're here to help!